Name: Heather-Victoria
Age: 21
Location: Atlanta

How did you find out about Heatherette? My God, I can't even remember! I probably stumbled upon a few pieces while browsing the internet one drunken eve many years ago.

Do you own any Heatherette items? If so describe! If not what is the piece you wish you had? I do! My all time favorite is [ironically] a piece that is too small for me.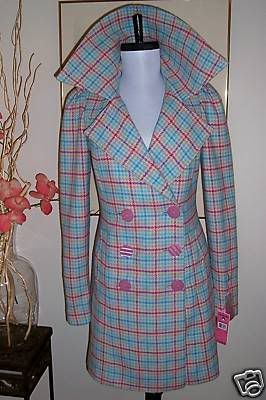 I've had it since '05, but I haven't let myself part with it until now. It is a tragedy. I definitely want it to go to a fan of Heatherette that will love it as much as I have (but hopefully they will actually be able to wear it, ha).

What are your favorite designers (other than Heatherette)?
I'm a big fan of vintage Betsey Johnson and Vivienne Westwood.

What is on your playlist currently?
Everything from The Kills to Rod Stewart to Big Black...

Who is your favorite of the Heatherette Crew (Aimee, Macky, Richie, Traver, Omahyra, Amanda)Why? I've always had a huge crush on Richie. What a talented mind and a beautiful face!